Auxora 400G nWDM Filter Block won the Lightwave Annual Innovation Award
Time:2023-03-06 From:admin Hits: 580
On the eve of the 2023 Optical Fiber Communication Conference & Exposition (OFC), Lightwave, a famous media in the field of global optical network, announced the results of the annual Lightwave Innovation Reviews Honored Award. The 400G nWDM Filter Block product of Auxora, a company of TFC, won the Innovation Award, demonstrated its technical strength in the field of optical network solutions. It is the second year in a row that Auxora WDM Bidi BOSA has won the prize last year.
Auxora's 400G nWDM Filter Block products are used in 4 x 100Gb/s high speed optical transceiver to help customers improve long-distance transmission applications. Auxora''s design avoids high dispersion, provides a new solution for high speed transceivers.
The traditional LAN-WDM has four wavelengths, 1295.56nm, 1300.05nm, 1304.58nm and 1309.14nm, the channel spacing is 800GHz. Due to the physical characteristics of optical fiber transmission, the first two wavelength channels will produce high dispersion, especially at high transfer rates, such as 4x 100 Gbps, 4x200 Gbps or 4x400 Gbps. When it's 20~30 km transmission distance, the dispersion is a significant problem. In designing nWDM (Here "n" stands for "narrow band"), Auxora dropped the first two wavelengths and added 1306.85 nm and 1311.43 nm to form a new four-wavelength set. These four wavelengths are very close to the low-dispersion wavelength of 1310nm, which can effectively lower the dispersion.
Comments from the Jury:
"This is a good subsystem improvement and allows ER4-type optics to reach about twice as far as normal standard wavelengths. This might lead to an improved standard."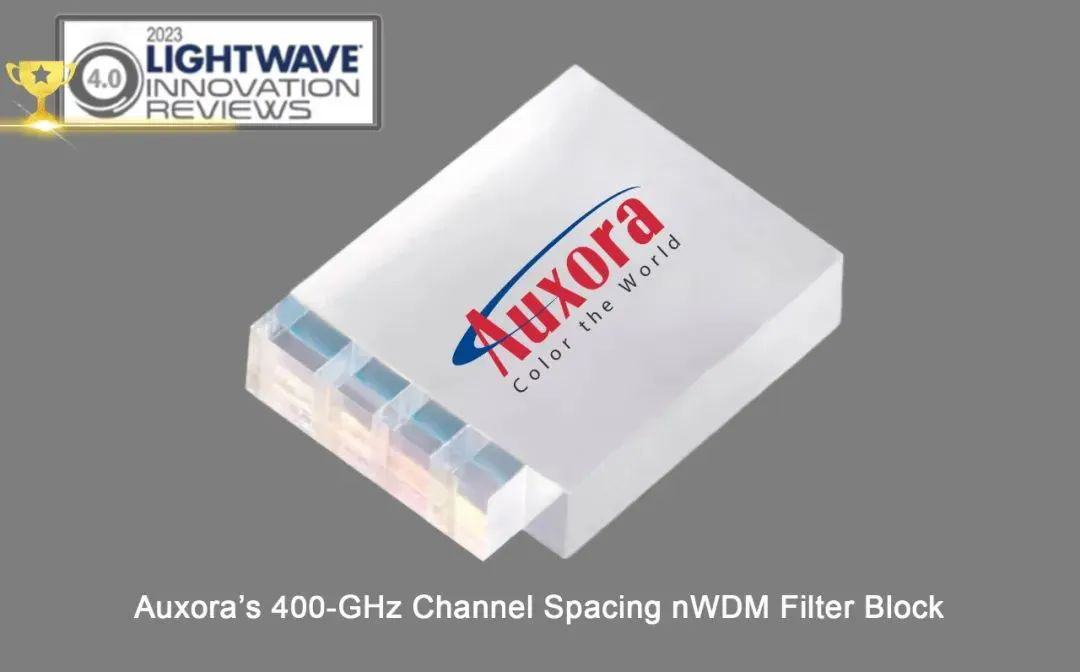 Product characteristics
1.Obvious dispersion advantage. Channel wavelength:1304.58 nm, 1306.85 nm, 1309.14 nm, 1311.43 nm, are all at low dispersion region in O-Band.
2.Small channel spacing, reached double capacity, compared to 800G LWDM.
3.Cost-effective, combined with high-end coating technology and highly automated assembly level.
4.Superior performance, low insertion loss, high isolation, temperature stability is good.
Lightwave Innovation Reviews is an optical communication technology certification activity conducted by the industry's authoritative media Lightwave. Lightwave's independent panel of judges will rate the products submitted by technical developers on a 5-point scale, Products rated 4 points or more are considered to have an obvious and essential advantage on technology and performance. All participants are the top new products and solutions in the optical networking industry, assessed by a committee made of renowned third-party judges. The committee includes industry executives and analysts. There are mainly service providers, technology developers, industry analysts and journalists. It is reported that Huawei, ZTE, Innolight, SiFotonics and other well-known manufacturers are also awarded this year.
This product will also be displayed on the booth of OFC2023 (#4015 TFC). You are welcome to visit our booth for communication.
For more product information, please contact: Mr. Lin E-mail: saleschina@auxora.cn
Auxora, a company of the TFC Communications Group, provides integrated solutions for precision optical coatings, passive devices and modules, passive components for optical transceiver module, and optical fiber interconnection.
Since 2000, Auxora has been a leader in passive optical solutions, serving Tier-1 customers globally in various markets; data centers, telecom/datacom, CATV, Bio-Photonics, high power laser mirrors, and advanced optics for automobiles. We are a vertically integrated manufacturer of optical thin film filter coatings, optical components and modules.
News
Service hotline
86-512-66560886
Address: No. 695 of Changjiang Road, High-tech District, Suzhou
Fax:86-512-66256801
Zip :215129