TFC Communication Awarded as Diamond Supplier of the Year 2020 by II-VI
Time:2021-01-29 From:admin Hits: 4129
Jan. 29, 2021--Suzhou TFC Communication Co., Ltd, a global leader in vertical integrated optical device manufacturing and service provider, today announced that it has received the Diamond Supplier of the Year 2020 award from II-VI Incorporated.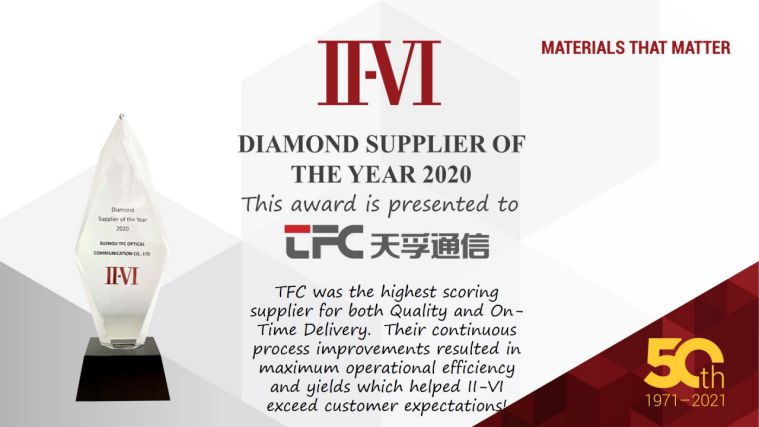 This prestigious award recognizes TFC Communication in terms of NPI engagement, high quality performance, agile delivery performance, and 24x7 customer service that's supporting II-VI to exceed its customers' expectations. The distinction was awarded during II-VI's 2021 Global Supplier Appreciation Event, held online in the morning of Jan. 20, local time.
"It's a great honor and a privilege to be receiving such an important award, Diamond Supplier of the Year 2020, from II-VI. We're truly grateful for the recognition on behalf of everyone in TFC. First, we'd like to thank II-VI management for your partnership and trust. 2020's been unique to everyone here, we faced such many challenges, but we hold each other strong and overcome those challenges together. Second, we're very thankful to II-VI R&D engineers, supply chain teams and quality teams, your professionalism, your kindness, your patience that enlighten us to be better than ever. I look forward to everything we can accomplish together in the years ahead," Said Lucy Ou, CEO of TFC Communication.
II-VI presented awards to suppliers in recognition of excellence in collaborating with II-VI to achieve the highest levels of performance, innovation, and service.
About TFC Communication
Suzhou TFC Optical Communication Co., Ltd ("TFC") is a global leader in vertical integrated optical device manufacturing and service provider. TFC's products are widely used in telecom, datacom and internet of things, etc.
TFC was founded in Suzhou in 2005 and got listed in 2015, stock code: 300394. Over the past 15 years, TFC has built proprietary technologies in processing materials like ceramic, plastic, metal and glass, which develop several technology and innovation platforms, including AWG, Fiber Array, Optical Engine, TOSA/ROSA Packaging, Plastic lens array, Optical Coating, Precise Molding Design and Manufacturing, Metal CNC machining, Ceramic Material Forming and Sintering.
For more information, please visit us at www.tfcsz.com.
Tel:+86 512-6656 0886
Fax:+86 512-6625 6801
Add:No. 695 Changjiang Road, High-new District, Suzhou, Jiangsu Province
E-mail:china@tfcsz.com
About II-VI Incorporated
II-VI Incorporated, a global leader in engineered materials and optoelectronic components, is a vertically integrated manufacturing company that develops innovative products for diversified applications in communications, materials processing, aerospace & defense, semiconductor capital equipment, life sciences, consumer electronics, and automotive markets. Headquartered in Saxonburg, Pennsylvania, the Company has research and development, manufacturing, sales, service, and distribution facilities worldwide. The Company produces a wide variety of application-specific photonic and electronic materials and components, and deploys them in various forms, including integrated with advanced software to support our customers. For more information, please visit us at www.ii-vi.com.
News
Service hotline
86-512-66560886
Address: No. 695 of Changjiang Road, High-tech District, Suzhou
Fax:86-512-66256801
Zip :215129